Our MISSION continues to ease the journey through Change, Transition & Transformation for Individuals, Teams & Organizations bridging and expanding upon our work since 1988 as JWH Training & Consulting, Inc.
How do we ease your journey?
Try mental health In Just a Moment™
Ask me to text, email or snail mail you a Postcard From Home™
& notice what happens.
JanetWerner@UHaveMyWord.com 
Our VISION is to clean up our world one WORD at a time.
Our 2020 – 2021 Focused Service to Leaders, Teams & Organizations:  MIT-based Structured DIALOGUE Facilitation
DIALOGUE Facilitation Applied to Race Relations & Reconciliation
Our team was honored to work with Rev. Caldwell, a beautiful and wise man who in 2020 carried forward the mission he enrolled in when walking with Dr. Martin Luther King Jr. Take a moment to hear his wisdom which was part of a leadership team meeting.
How do we cultivate clarity, coherence & coordinated action from the many distractions and pre-occupations calling for our attention in these times?
Our team introduces & facilitates you through 3 zoom sessions of Structured DIALOGUE Assumption Checking Disciplines based on MIT research & over 30 years of time-tested applications of our work in large corporations, small businesses/family owned businesses and non-profit organizations.
How do we transform fragmented inefficient meetings & conversations in business at this time?
Table Talk Tools™
ease conversations & engagement
In Just a Moment™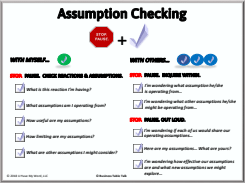 Unfortunately, most forms of organizational conversation, particularly around tough, complex, or challenging issues lapse into debate (the root of which means "to bear down"). In debate, one side wins and the other loses; both parties maintain their certainties, and both suppress deeper inquiry.  Such exchanges do not activate the human capacity for collective intelligence.  Dialogue is a discipline of collective thinking and inquiry, a process for transforming the quality of conversation and, in particular, the thinking that lies beneath it.  — W. Isaacs
We facilitate team meetings with the disciplines of DIALOGUE Assumption Checking.  Participants notice that meetings move from fragmentation, confusion & overwhelming agendas into a more streamlined focus with integrated thinking and forward movement.
Our long standing VALUES guide our business & community services – Truth. Authenticity. Alignment. Congruency. Compassion. Community. Simplicity. Partnership. Passion. Respect. Results.
Our COMMUNITY Service Projects
Join us in our WE CARE Collaboration with The Dale Caldwell Foundation 501 (3)(C). Your financial support supplies tools of engagement to senior living facilities, schools, youth organizations, veterans, active-duty soldiers & first responders.
Learn more about our community service projects.