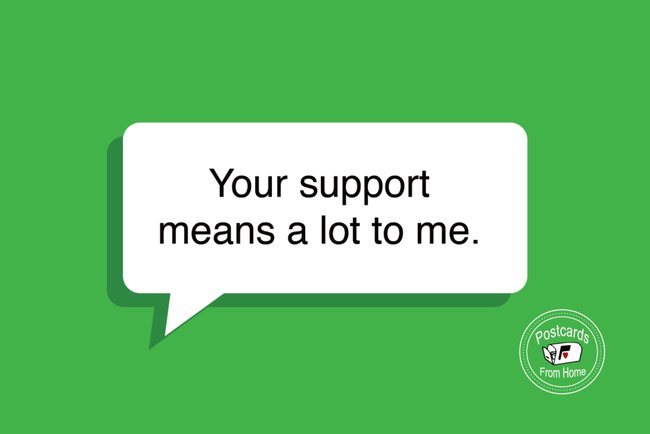 Postcards From Home™ spread Miles & Miles of Peace & Smiles™ throughout our nation and around the world initiated in collaboration with The Dale Caldwell Foundation. Expanding in collaboration with Code 9 Heroes and Families United
Hundreds of kindness cards were given to parade viewers to expand our Miles of Peace & Smiles™ campaign across America. Thank you for your support: Kindness Ambassador, Holly Myers; The Dale Caldwell Foundation & Triangle Manufacturing for funding the printing of our cards. We invite more sponsors to expand our reach.
Contact this Military MOM on a Mission: JanetWerner@UHaveMyWord.com Explore how you can be a WE CARE funding sponsor providing caring cards along with mental health training support to our veterans, active-duty military and first responders throughout our communities. Donations can be made directly to the non-profit organizations that we sponsor.
Did you know that the VA Office of Research and Development is sponsoring a clinical trial on the use of CARING CARDS to prevent suicide? (2021 – 2022)
Caring Cards to and From Veterans: A Peer Approach to Suicide Prevention
Brief Summary: Veteran suicide is a national problem; social disconnection is an important contributor to suicide risk. This pilot study will recruit Veterans to take part in a peer-centered intervention called Caring Cards (CC). CC gives Veterans who have a history of increased suicide risk the opportunity to make cards that are then sent to Veterans who are currently at high-risk for suicide. This study will directly benefit Veterans and contribute to the quality of services provided by VA by creating a safe, creative space for Veterans with lived experience related to suicide risk to join together to provide messages of hope, community, and resilience to their peers at risk for suicide. Helping Veterans support one another provides a bridge for social connection, which may help prevent Veteran suicide. This intervention may also improve Veterans' satisfaction with VA healthcare and engagement with mental health treatment. Caring Cards to and From Veterans: A Peer Approach to Suicide Prevention – Full Text View – ClinicalTrials.gov
Reaching out: How caring letters help in suicide prevention.
"Is a simple expression of concern enough to cut through the darkest recesses of a suicidal mind? Turns out, some long-forgotten research from a psychiatrist named Dr. Jerry Motto at the University of California, San Francisco says yes.
Motto had served in World War II, and he never forgot the impact of writing and receiving letters while he was overseas. They made him feel more connected, and that gave him a very simple idea: "If you know that you are going to make a connection, and that you can communicate that you care, that's all that's important," said Dr. Motto's wife, Pat Conway."
"Dr. Motto theorized that, like him during the war, if people somehow felt more connected in the days after being released from a psychiatric facility – one of the riskiest times for suicide – that might just be the tether that holds them to life."
"Between 1969 and 1974, he sent half of the patients a series of what he called "caring letters." Responses included:
"Getting this letter lightened me very much. It is beautiful to get a letter from you." "Your note gave me a warm pleasant feeling. Just knowing someone cares means a lot."
Watch the 8-minute video:
https://www.cbsnews.com/news/reaching-out-how-caring-letters-help-in-suicide-prevention/
Stanford University Suggests: Caring Letters Help Prevent Suicide (2020)
https://sparq.stanford.edu/solutions/caring-letters-prevent-suicide
Regularly receiving letters from a caring person helps people at risk for committing suicide feel connected and stay alive.
Military Suicide Prevention: The Power of a Caring Letter (2018)
"Caring Letters is a simple intervention that can be added to existing treatment plans and prevention strategies. It has been tested in multiple countries and involves providers, hospital staff or volunteers sending mailed letters, postcards, greeting cards, emails, and text messages to patients following treatment or hospital stays."
"How can such a simple intervention impact suicide behavior? This question is still being researched, but many service members feel the power of a "caring letter" during other situations, such as an overseas deployment. It is possible that repeated messages serve as a reminder that the individual is not alone in the world and that there is someone out there who cares."
"Caring Letters may be especially useful for service members during transitions from inpatient to outpatient care, from a crisis call to treatment, between scheduled treatment sessions, and during other transitions and gaps in care. They can also be helpful when a provider has done everything they can to address a service member's needs, but there is a clinical sense that more is needed."
"While Caring Letters cannot directly address underlying mental health disorders or solve major life problems, it is possible that the timing of receiving Caring Letters, or the additive effects of the letters over time, make a difference. Caring Letters can play an important role in a comprehensive suicide prevention plan by reminding patients that they are not alone and that help is available."
Mark Reger, Ph.D is the chief of psychology at the VA Puget Sound Health Care System, and associate professor of psychiatry & behavioral sciences at the University of Washington School of Medicine. His research focuses on military and veteran suicide prevention. Military Suicide Prevention: The Power of a Caring Letter | Psychological Health Center of Excellence (pdhealth.mil