What we do
Integrated Organizational Development & Change Leadership
High Performance Team Effectiveness
Training Programs & Unique Learning Tools
Individual Coaching
Facilitate challenging & sensitive meetings
Our organizational development, team building, coaching and training services expedite results, minimize learning time and reduce costs with our microlearning tool box that includes Business Table Talk Napkin Notes™, My Desk Top Coach™ self-directed learning and customized multi-media packages.
Table Talk Tools™
ease conversations & engagement
In Just a Moment™
The Drive Through Coaching Clinic™ is a unique delivery platform that provides laser focused coaching for all employees In Just a Moment™.
You are welcome to download our signature tool called STOP. Pause. Print copies for a meeting or training program. Bring scissors and tape. Invite employees to cut out and assemble their own simple reminder to STOP. Pause and pay attention to what is important.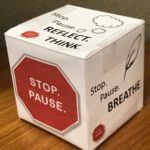 Customized Training & facilitation services
Diversity, Equity & Inclusion in ACTION with MIT-based DIALOGUE Facilitation

Work Process Improvement
Conflict Resolution
Collaborative Relationship Building
New Manager & New Supervisor Training
Problem Solving Skills
Decision Making Skills
Communications Skills
Meeting Management Skills
Presentation Skills
Performance Management Systems
Succession Planning
Train-the-Trainer
Business Plan & Strategic Plan Development

Structured DIALOGUE Assumption Checking Facilitation & Certification
We are being sought after to assist organizations in navigating the complex CHANGE agenda which includes facilitating healthy conversations on the sensitive topics of DIVERSITY, EQUITY & INCLUSION.
We are often called in to improve communications, resolve conflict & expedite work process efficiencies within and between departments. Over time we establish best practices & professional disciplines that lead to improved individual, team & organizational results. It is common for us to partner with an organization over the long term to position for growth & continuous improvement. Learn More