U have my world Project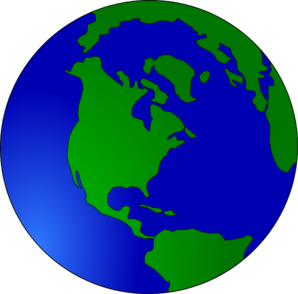 "Never doubt that a small group of  thoughtful, committed citizens can change the
world; indeed, it's the only thing that ever has." ~Margaret Mead
We expand the conversation to rethink how we think about mental health, bullying, abuse & violence around the table by offering our Table Talk Tools that ease forward movement on the values of respect, caring, honesty, integrity, responsibility and, of course, N.O. Spells No.  Y.E.S. Spells Yes.  Maybe So?  It's Got to Go.
Table Talk Tools are based on neuroscience and Columbia University research that documents positive healthy results when families eat & engage in quality conversations together.
Our intention is to start local and go global.
We bring Table Talk Tools to schools & youth organizations, business lunch meetings, college student cafeterias and everywhere a "family" gathers to eat together.
Table Talk Tools include:
downloadable placemats
downloadable construction cubes
downloadable stickers
Napkin Notes
You may join us in corporate service by contributing to printing tools for our 5013C non-profit collaboration projects. In addition, you may sponsor advertising space with your LOGO printed on our Napkin Notes. Please contact JanetWerner@UHaveMyWord.com
2019 Corporate Service Engagement Projects include:
 BW NICE 10 Year Celebration supporting the fight against domestic violence, May 9, 2019 https://bwnice.org/
 Born to Run supporting the fight against hunger & Open Door food pantry, November 29, 2019 https://www.btr5m.com/
 GI Go Fund supporting veterans & active-duty military, Stand Down for Homeless Veterans — October 2019
HISTORY of Service
The Boys & Girls Club of Paterson and Passaic. 2018 – 2019.
Holiday season 2018. TD Bank, Columbia Bank & other volunteers serve food for 1000 in Passaic & Patterson & bring presents to each child. U Have My Word LLC on the volunteer team.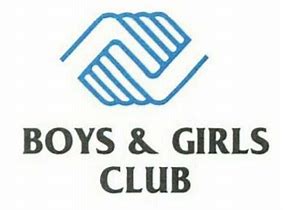 Respect Counts a lot with Fab Fives at The Girls & Boys Club of Paterson and Passaic.
Janet Werner visited the Boys & Girls Club and provided RESPECT tools and exercises for the 5-year-olds on November 12, 2018.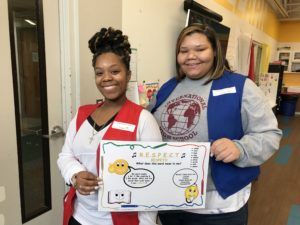 When we handed out stickers to 5-year-olds that say, I have a lot of respect for you the children replied with a smile, I have a lot of respect for you too. We received the same respectful response along with a professional handshake when giving a sticker to teens walking out from the gym.
The goal of U Have My Word LLC is to provide tools that introduce the phrases of respect which can be repeated easily. Janet Werner believes that these language habits will lead to actions of respect when interacting with each other. With the Fab Fives these tools reinforce their classroom behavior rules.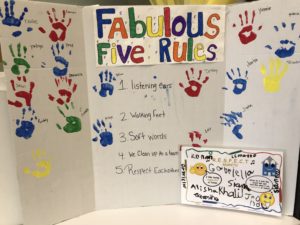 Our tool box includes exercises that can be applied In Just a Moment: Stickers, placemats, cut out construction cubes & homemade Napkin Notes. Children can take these tools home to continue their practice of the words and actions in family conversations.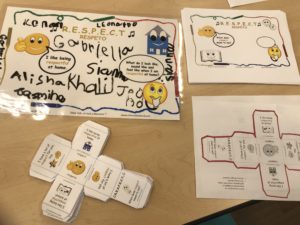 Positive words & phrases that we introduce include:
I have a lot of respect for you.
I notice you being respectful. I appreciate you being respectful. Thank you for being respectful.
I am respectful. I like being respectful. I am a respectful character.
We are establishing metrics to document the results over a 6-9 month sequence.
Hands In 4 Youth         www.hi4y.org 
Respect for All Week in NYC public schools February 11 – 15, 2019.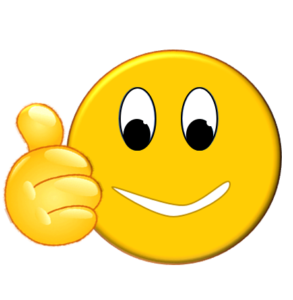 Another one of our ongoing volunteer projects focuses on collaborating with Hands In 4 Youth by providing staff training, character tools for NYC After School programs and service days that prepare the facilities to welcome summer campers.
Providing Staff Training & Team Building at HI4Y. May, 23, 2018.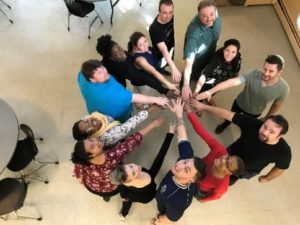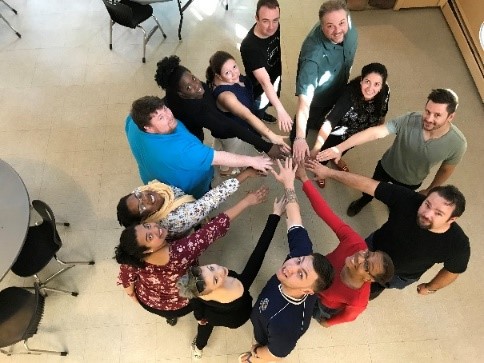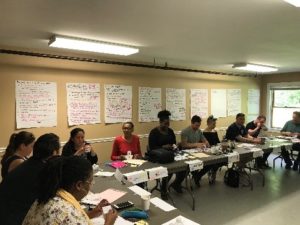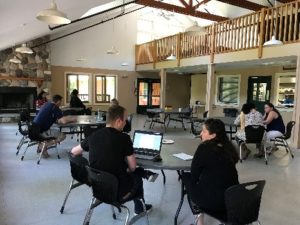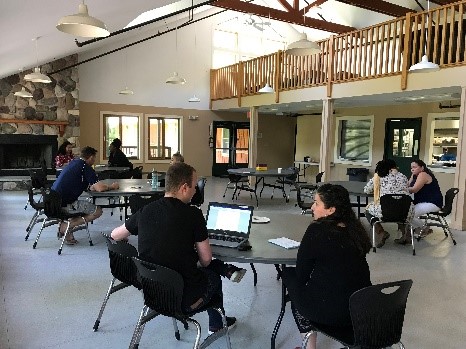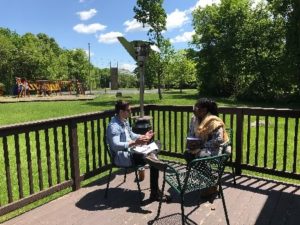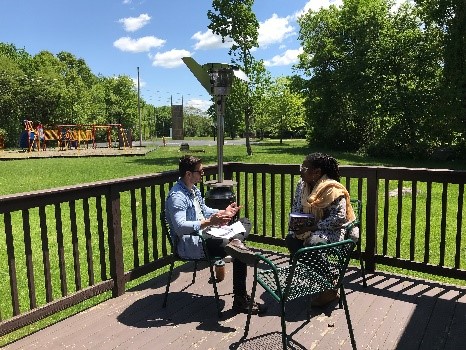 Hands in 4 Youth, West Milford, NJ www.HI4Y.org
Our focus in 2018 is to provide character tools and volunteer our time to schools & youth organizations in need in New Jersey and New York.
We provide the Character Tool Kit to Hands In 4 Youth NYC Afterschool staff and collaborate in improving the tools to deliver measurable results.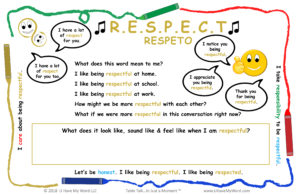 Week of Respect in NJ public schools October 1-4, 2019.
Respect for All Week in NYC public schools February 11 – 15, 2019.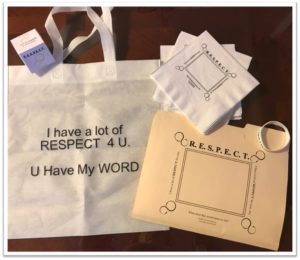 You are invited to inquire about how to get involved with this project by contacting Janet at JanetWerner@UHaveMyWord.com
Our Story
For over a decade Janet introduced The Character Tool Kit at schools, community events and in the homes of family and friends.  Below are some of the comments received:
"I would like to work with teens who have been brought up with these tools since they were in elementary school.  It would be easier to work with them if they had this background early on." 
~School Resource Police Officer, Marlboro, NJ.
"If we could teach these character tools beginning at a young age & all the way through adulthood maybe we wouldn't have the tragedies that we see."
~Applegate Elementary School, Freehold, NJ. YMCA Staff Member & Mom.
"I think the tools are great as napkins.  I want the books in digital format to buy or download on line. I love conversation starters, be they at home, a coffee shop, school, a restaurant.  I like writing my own note on these & sending it in with my preschooler's lunch.  I am placing an order!!! Love them all!"
~Mother of a 6-year old.
"I like it. I can see putting these up on my smart board and having the kids interact with me. I could talk every day on a new topic for a year with your new character tools. What if you sold them to schools on a thumbnail file?"   
~HS teacher
"A single mom of a 2- year old notices a paper towel roll on her counter. She unrolls the paper towels to read:  I appreciate you Mom. I have a lot of respect for you Mom. I care about you Mom. Mom says: "Well this is a Quicker Picker Upper."