Who We Are

We are a team of experienced CHANGE LEADERSHIP experts with unique skills in the Discipline of DIALOGUE Assumption Checking.
We partner with established professionals who come together to serve our client needs requiring an integrated and streamlined approach to navigating the complexities in today's environment.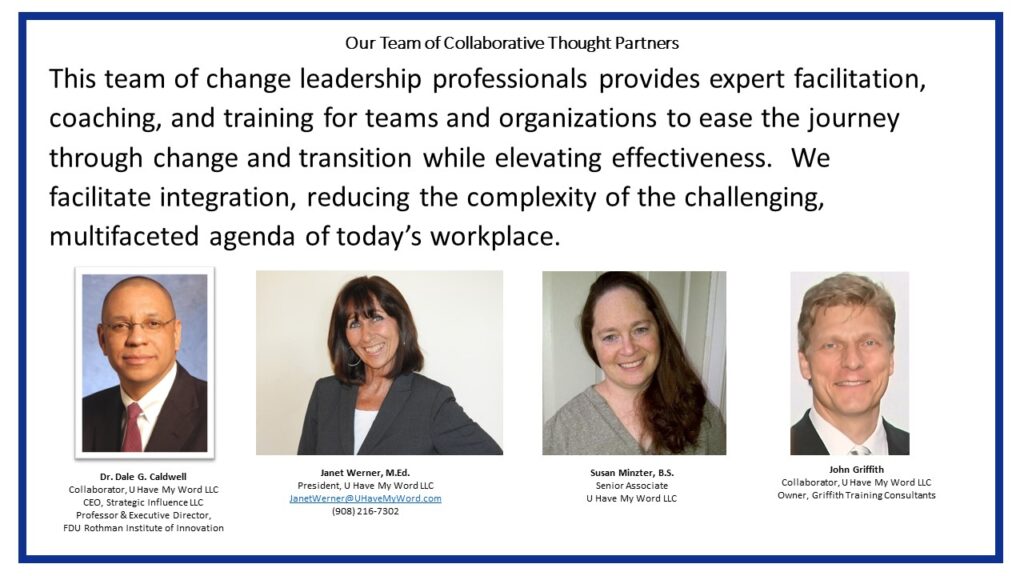 Video: Family Business World TV hosted by Dr. Dale Caldwell. Janet Werner & John Griffith collaborating to serve business leaders in these challenging times.
We expedite problem solving, collaborative alignment and behavior change with a Rethinking How We Think mastery in the tool of Dialogue assumption checking as described in the Fifth Discipline by Peter Senge and introduced through the Dialogue Project at MIT.
For over 30 years, we earned a reputation for integrating microlearning into our services resulting in clients remembering our impact, becoming empowered in the applications and coming back for more when new challenges arise. Microlearning is trending in the Talent Development industry yet microlearning has been around for a long time. This new trend is a best practice from teacher education and parent education where we offer digestible chunks at teachable moments.  Let's talk about how we might ease your journey to integrate this time tested practice of microlearning into your workplace.
Our Team
Janet Werner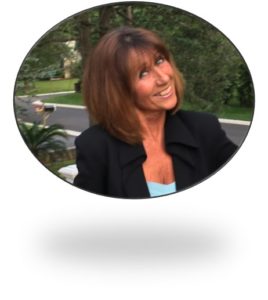 Janet Werner, Janet Werner, Dialogue Master Facilitator & Trainer.
M.Ed, The College of New Jersey, President of U Have My Word LLC.
Janet bridges and expands upon 30 years of experience from JWH Training & Consulting Inc. with an enhanced ability to increase the success rate of large-scale organizational change initiatives. We make it easier for business leaders to lead the transformation within their own organizations with time-tested tools that produce results . A paradigm shift forerunner from the 1980's, known as the Vision Lady who applied Quantum Physics intelligence to organizational change management Janet has earned a reputation to not only think out of the box but to implement customized solutions that enable clients to break through the old paradigm of thinking and on to results that are sustainable.  A key turning point in her impact on service efficacy came with simplifying the tool of Dialogue as described in the Fifth Discipline by Peter Senge. Janet's mantra in 1997, "Let's Slow Down to Speed Up" has advanced to include "STOP, Pause. Let's Rethink How We Think." Along the way Janet founded The Leadership Alignment Spa, LLC in 2000 where bright leaders from business, government, non-profit organizations and education gathered to engage in Dialogue Roundtables exploring new solutions to old recurring problems.   Today, Janet enjoys engaging with her son who served the United States Army with two tours to Afghanistan now transitioned to civilian life, successfully employed with a strong work ethic and clear vision for his life and career.  Many of the leadership and character development tools in our curriculum originally were conversation starters with her son during his pre-teen and teen years where he provided input and advice on their use.  Prompted by her son's experience in the Army, Janet's passion is to serve our Veterans and active duty military men and women by delivering care packages of Napkin Notes™ & tools from our homes to their homes around the globe.
"You put me on a new path of thinking out of the box in 1998.  You helped so many people back in the 1990's who are still using your tools."
~ Eugene Rusch, President, Executive Leadership LLC
Please watch and listen to "I Celebrate You."
Susan Minzter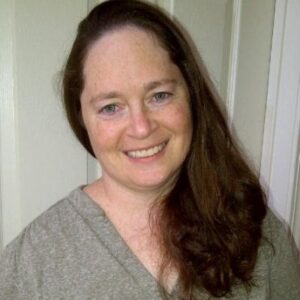 Susan Minzter, Senior Trainer in conflict resolution, communication, customer service, team effectiveness, new supervisor/manager curriculum.
Co-coordinator, Postcards From Home, Youth Character Development & The Dale Caldwell Foundation WE CARE Collaboration.
A talented and valued team member since the early 1990's, Susan is a seasoned training & development professional with excellent teaching and facilitation skills. When working with clients, Susan is an astute listener who establishes rapport easily and discerns the real needs and solutions to problems presented. She is Co-coordinator of our Youth Character Development project delivering tools and workshops to schools, youth organizations and in family settings.
Susan's expertise is broad and deep. She is an effective trainer in the classroom, skilled coach in one-to-one situations and has an experienced eye for good instructional design. Susan's experience-based wisdom offers practical business savvy when customizing services to client needs and projects at U Have My Word LLC.
As a long-time student and practitioner of Nonviolent and Connection Communication, Mindfulness, and Play Therapy, Susan approaches communication from an inside-out approach and works to bring this practice into all aspects of her work, whether it be working with and leading herself, her business team, or her clients.
BS, English, William Smith College. Certificate in Training & Development, Keane College. Certificate in Conflict Resolution, Social Harmony. Certificate in Dialogue Assumption Checking, U Have My Word LLC.