How might we ease your journey in caring for the human heart during these times?
One person at a time.
One family at a time.
One community at a time.
One postcard at a time.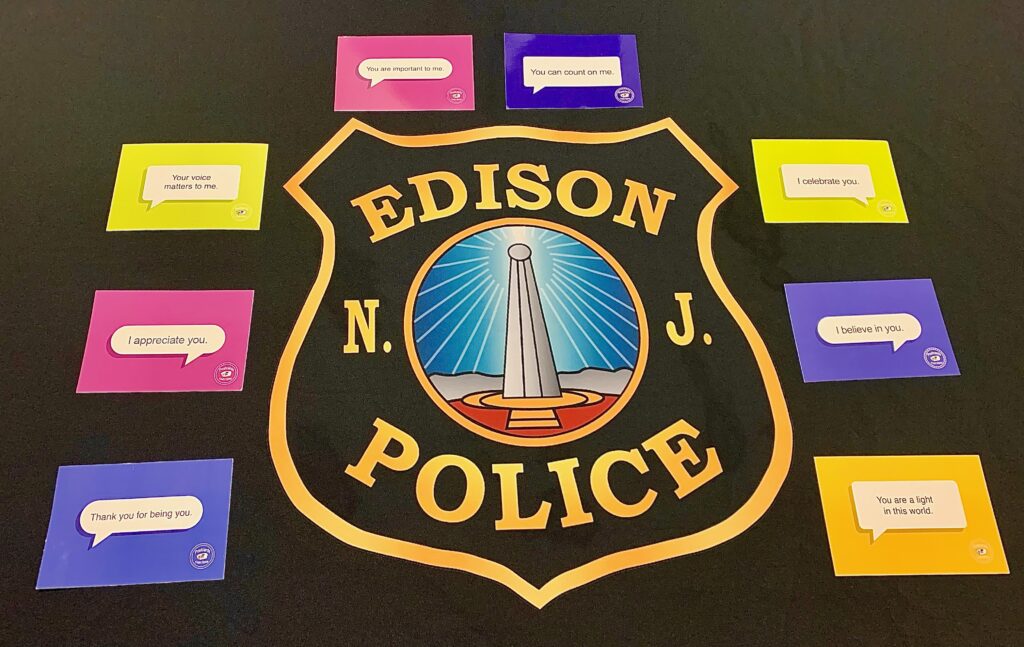 Who cares? Well, we all really care. We care about making it simple and easy to bring a smile and make a difference In Just a Mail Moment. We invite collaborations with business leaders, organizations and teams to ease the journey in your community service initiatives. This is why the WE CARE Collaboration was launched. The WE CARE collaboration is an outreach initiated by the Dale Caldwell Foundation and the U Have My Word LLC volunteer team. We give a heartfelt thank you to our Founding Business Sponsor Dax Strohmeyer, CEO, Triangle Manufacturing Company, Inc. for generously supporting this outreach. With the help of Dax and other collaborators, WE CARE is currently impacting thousands of NJ residents by multiplying the impact of caring words In Just a MAIL Moment™.
"The question for me was not whether to give to charities, but to which ones. There are so many wonderful, creative, and necessary charities to give to today. I have a real passion for New Jersey and the people in it, so I was comforted that the Dale Caldwell Foundation "We Care" project was going to start with their focus in New Jersey. Times have been hard for so many people, and I saw the 'We Care' project as a practical and easy way to touch thousands of people. You never know when a simple word of caring can make all the difference in the world." Dax Strohmeyer
Our WE CARE initiative starts with Postcards From Home™. Why are postcards so unique and impactful? Did you know that the 'Mail Moment' is real and that we can leverage it in a simple way? People are hungry for personal connection and meaning in the day especially when they feel so isolated from social interaction. The Mail Moment has built in anticipation, pleasure, personal touch, undivided attention and is welcomed as a meaningful experience.
Did you know that snail mail evokes emotion and connection? Studies around the United States show:
67% feel mail is more personal than the Internet.
56% say receiving mail is a real pleasure.
55% of people look forward to the mail with anticipation and give it their undivided attention.
Mail is welcomed into homes and plays a unique personal role in their daily lives.
Mail offers an opportunity to create an emotional connection. (The Mail Moment-Pitney Bowes)
How might we tap into the power of the Mail Moment and ease the journey in caring for the human heart?
When you combine digital communication and snail mail interaction and engagement with the message increases? Postcards are easy to mail and easy to add to an email, text or social media communication increasing impact, retention and follow up action. At this time when we all would like a bit of ease in our day and ease in our outreach, Postcards From Home™ offer you an easy way to expand the impact of your community service initiatives. The WE CARE Collaboration taps into the positive impact of the MAIL Moment.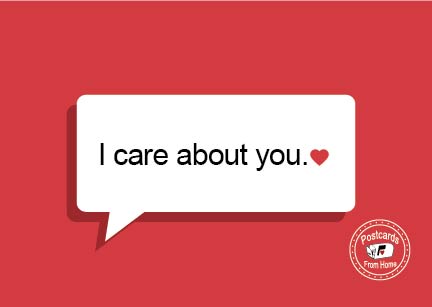 Imagine opening your mailbox and noticing a simple colorful message that greets you with, 'I care about you.' Now imagine your employees working from home or driving home from work and opening their mailbox greeted by a message from you saying, 'You are important to me.' Next imagine your employees engaging in a postcard mailing party, sending hundreds of positive caring messages out into the community as a follow up to your service projects. What impact can you imagine this making on employee and community morale and multiplying a sense of esprit de corps? In one simple delivery of 1100 postcards to Providence House of Ocean County uplifting messages are being distributed to families of domestic violence when they receive food, clothing, and other supplies through Catholic Charities.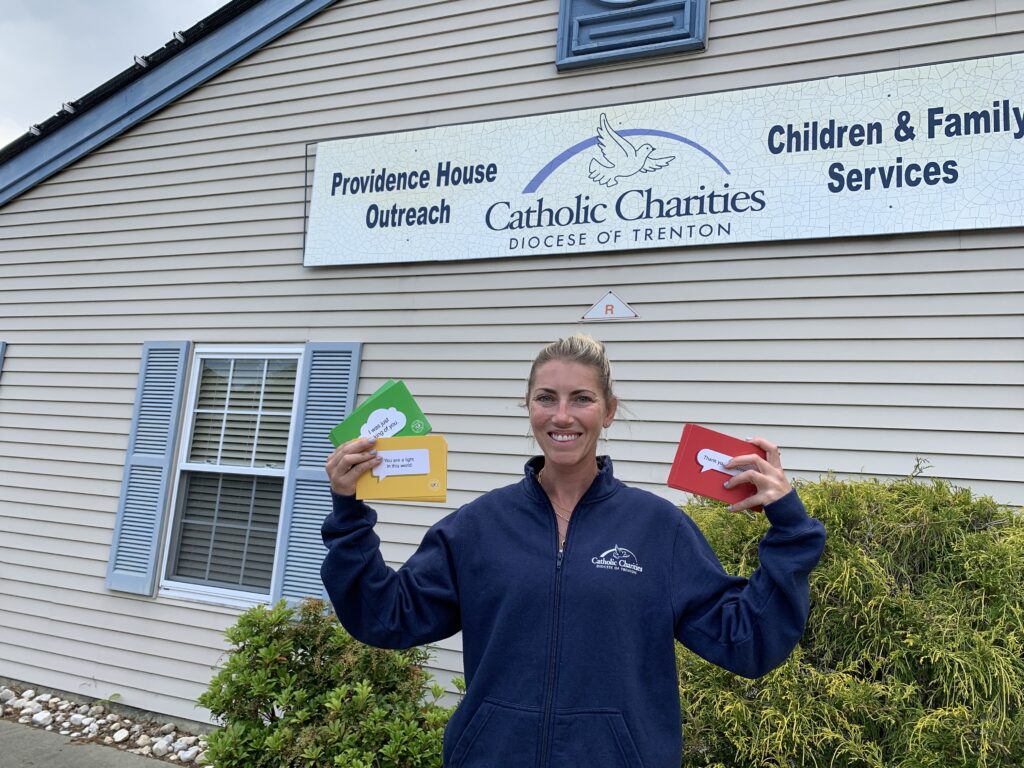 Postcards From Home™, created by Janet Werner, started as an inspiration and heart desire to engage person to person from her home to the homes of others. This was not a postcard mailed from a vacation spot but a postcard from "my heart to your heart…from wherever I am to wherever you are." Our team and mailed cards that said, I was just thinking of you…I have a lot of respect for you. When my son was stationed in Afghanistan, I mailed postcards to his base and imagined that even the soldier in the mail room just might feel a smile as the colorful message was handed out at mail pick up. For my son and the soldiers who he lived with, these postcards brought a sense of connection from home during difficult and often lonely days. My vision was and still is to create Miles & Miles of Peace & Smiles™ around New Jersey, across our nation and throughout the globe.
During the COVID shutdown, the Dale Caldwell Foundation WE CARE initiative brought supplies of Postcards From Home™ to nursing homes, schools, hospitals, police units and other community agencies. The nursing home moments were especially heartfelt as senior residents who were isolated from their loved ones received supplies of postcards and stamps which positioned them with an action step that they could take along with an energy lift that made their day. Our seniors enjoyed giving cards to staff and their neighbors as well as mailing them to friends and family who were not able to visit.
Since then, we have teamed up with more community organizations to multiply the mission of adding a smile to someone's day.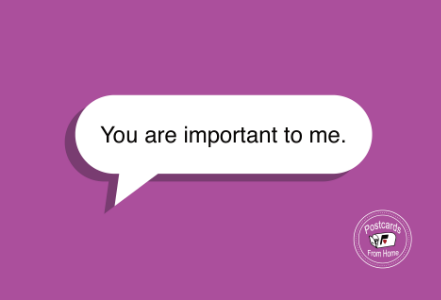 Who cares? We all care! We all really care!
Our goal is to ease your journey in caring for the human heart as you invest in your own community service outreach. We invite a collaboration with you and your employees to explore how Postcards From Home™ might simplify and multiply the impact in your community service initiatives.
The Dale Caldwell Foundation and U Have My Word LLC team have a strong history in collaboration and community outreach. We invite a conversation on how we might collaborate together with you in creating Miles & Miles of Peace & Smiles around New Jersey, across our nation and throughout the globe.
Business sponsors like you already fund the delivery of positive healthy CARING services that nourish the mind, body and soul of our frontline heroes and throughout underserved communities. We offer you the opportunity to integrate caring cards into your current community outreach program and together expand the wonderful work you are already doing. We also know that there are companies that haven't yet been able to begin the community initiatives in the way that they would like to. It is our intent to make contact and connection easier by using digital and snail mail postcards.
Our collaboration with the Dale Caldwell Foundation and NJ business leaders on this effort is in alignment with how our team envisions moving forward with the WE CARE initiative. We all care about caring and recognize the importance of being positive and its impact on mental health which now affects all of us.
"It's easy. It's simple. And it's profound. When my Dad was in rehab, he asked Janet to bring a supply of these postcards to him so that he could share them with the staff and other residents. When I saw how much these postcards meant to my Dad, I knew we were onto something deeply important that touched each of our souls, whether we were the one giving or the one receiving." Dale Caldwell
How the WE CARE program works?
When a business provides financial donations, our volunteers deliver a supply of postcards to a designated agency in the community which may include a hospital, police or fire department, homeless shelter, food pantry or any agency of your choice. We also deliver a supply of postcards to your place of work positioning your employees to send postcards to your established agency as a team engagement experience. We work with you to identify the best approach to get the positive words out.
Examples of impact with some of our community outreach partners:
"Thank you again so very much for the postcards! We went around yesterday room to room offering to help the residents with these. We will be mailing out nearly 50 today!!! What a great 1:1 interaction. What a great way to stay connected." – Allaire Senior Care residency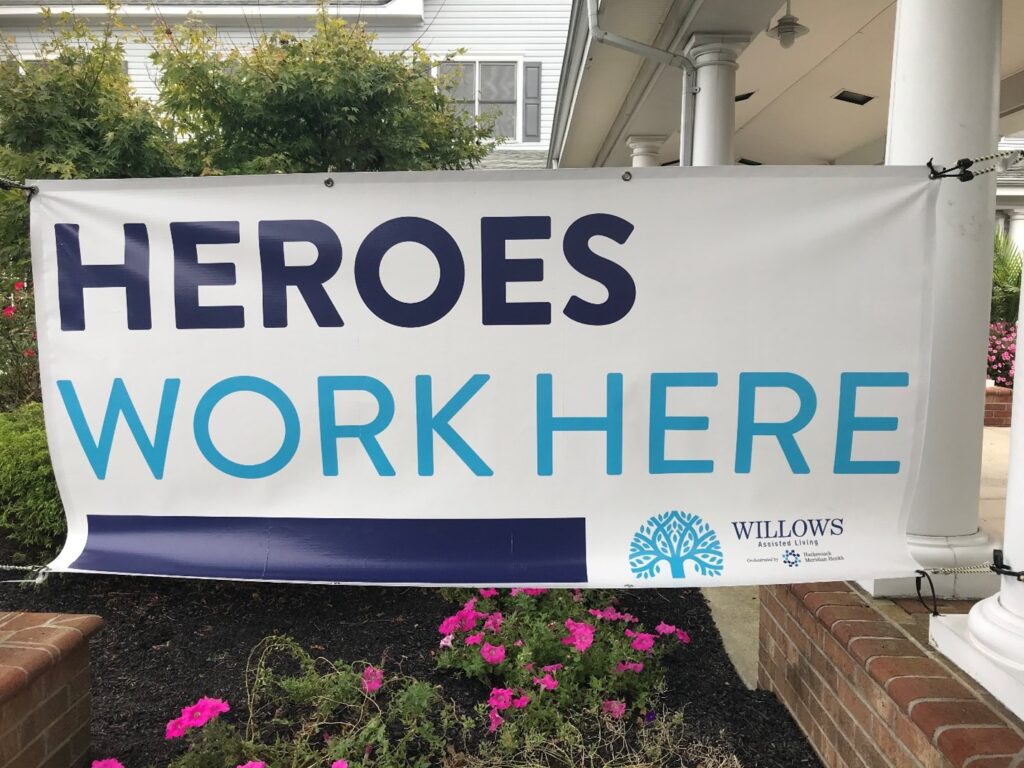 "The residents love the postcards. It's really been an uplifting part of our programming right now, especially given how all programming is in-room due to COVID." – CentraState Healthcare System.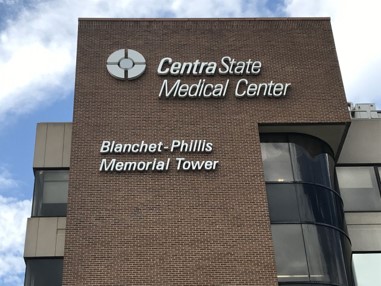 Calvary Academy 5th grade students mailed Postcards From Home™ to local police officers thanking them for their service. "The students were so thrilled to receive a postcard in return from our police chief." Principal, Calvary Academy.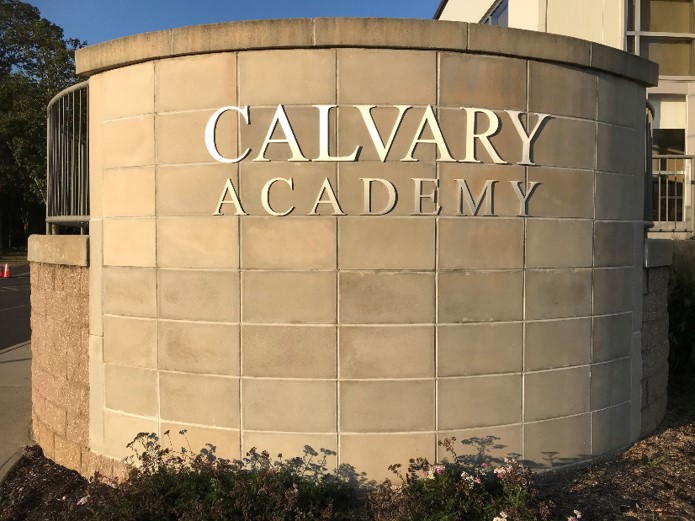 In the end, who cares? I care. You care. We all care. So, how can you get involved? With your financial support, The Dale Caldwell Foundation WE CARE fund can expand its reach to more veterans, active-duty military, police officers, food pantry programs, schools, universities and underserved communities.
"I have such respect for and confidence in The Dale Caldwell Foundation," said Strohmeyer. "The We Care program is so powerful because of its simplicity especially in today's world. How often do we hear these uplifting words in our day? I appreciate you…You can count on me. Imagine touching thousands of lives with words like these."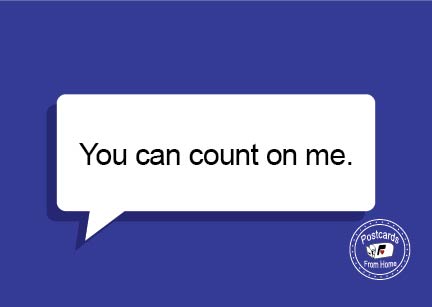 One of our newest partners is Hands In 4 Youth in West Milford, NJ where campers will be able to communicate home to their families this summer with their very own supply of postcards. Youth camps are a great opportunity for your funding support.
Whether you want to start a new initiative, or integrate our postcards into your existing ones, I'd love to talk with you about the possibilities. Please email me to see how you can engage your employees and the community and touch lives with these simple messages.
Janet Werner, President, U Have My Word LLC
WE CARE currently supports the following organizations with funding from Triangle Manufacturing Company, Inc. | Innovative. Life. Solutions. (trianglemfg.com)
Code 9 Heroes and Families United
Edison Township Police Department | Facebook
Ocean County – Catholic Charities, Diocese of Trenton (catholiccharitiestrenton.org)
Willows Assisted Living | Hackensack Meridian Health
Top Hospital in NJ | CentraState Healthcare System